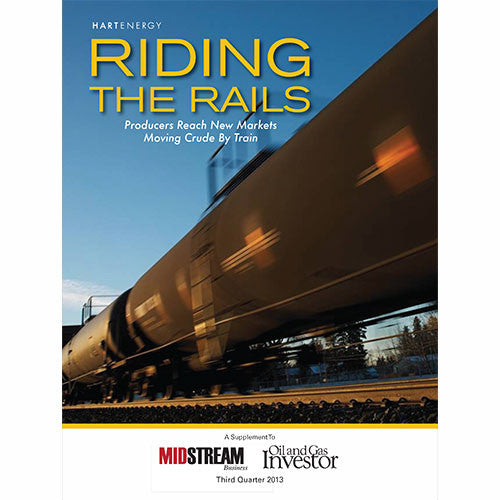 ---
Producers reach new markets moving crude by train.
Table of Contents
002 | Crude By Rail Is Here To Stay
Industry experts explain how rail is not a short-term solution and now part of a key supply-chain component.
016 | Reaching Markets Via Rail
Railroads are providing a timely solution to transport crude and other products.
028 | Rail Roundtable
Rail experts discuss where their industry's relationship with the oil and gas business stands today-and where it's headed in the future
034 | Northern Exposure: The Canadian Market for Condensate
Surging U.S. condensate production is more than the country can consume. Canada needs condensate; the challenge is how to get it there.
042 | Faster And Sometimes Cheaper
Differentials between inland and coastal prices and lack of pipeline alternatives have pushed rail transport of crude and liquids to the forefront in the new-era resource plays.
046 | Moving The Goods
Multimodal infrastructure ensures crude can be loaded, transported to its destination and unloaded in a safe and timely manner.
052 | Managing Market Demand
Tank car builders, lessors grapple with tightness; a backlog of 18 months, soaring lease rates puts onus on fleet management.
056 | Rail Accidents Raise Safety Concerns
058 | Crude-By-Rail Resource Directory
061 | Company Listing
---
Share this Product
---
<!-–

Liquid error (layout/theme line 395): Could not find asset snippets/spurit_uev-theme-snippet.liquid