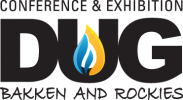 DUG Bakken Rockies 2020 Speaker Presentations
---
This power pack includes all speaker presentations from DUG Bakken Rockies 2020. Presentations are available via PDF direct download upon purchase. 
Opening Keynote: Weld D-J
HighPoint Resources, born from Rockies legend Bill Barrett Corp., is posting ever-greater results from its Weld County leasehold, while also exploring the basin into Wyoming. Hear its results and plans.
Speaker:
Paul Geiger, Chief Operating Officer, HighPoint Resources Corp.

All That Powder: Operator Panel
Leading Lower 48 multi-play operators are increasingly citing an emphasis on the Rockies—and, of course, the Permian—in their capex budgets and slide decks. Within the Rockies, the Powder River Basin has captured attention. Here's why.
Speaker:
Joe DeDominic, President & CEO, Anschutz Exploration Corp.
Joe Mills, President & CEO, Samson Resources II LLC
Aaron Ketter, Vice President, Rockies Business Unit, Devon Energy Corp.

Markets: Money & M&A
The Street remains in "show me the returns" mode, while top Rockies producers keep showing them the money. What's next? Consolidation? And where are prospective investors that are sitting out leaving money at the table?
Speakers:
Welles Fitzpatrick, Managing Director, E&P Research, SunTrust Robinson Humphrey
Trisha Curtis, President and Co-Founder, PetroNerds LLC
The Bakken Today: Well Factory
With an ever-advancing recipe for the right completions, a bounty of targets and a continuous drive for increased efficiency, Hess is leaving no hydrocarbons behind. Hess talks about its journey and future plans as well as the outlook for EOR in the Bakken.
Speaker:
Dougie McMichael, Director, Bakken Well Factory, Hess Corp

Heard at the Yurt: Rockies EOR
Liberty Resources presents Bakken pilot EOR results to date and its plans for Round 2. Learn tacks that are proving promising.
Speaker:
Gordon Pospisil, Vice President, Business Development, Liberty Resources LLC

Special Address: A New Middle East
A minority piece of Saudi Aramco is now public, Iran allegedly bombed a Saudi export facility, control of Iraq is being contested, the U.S. and Iran are battling with missiles, Qatar has left OPEC... and oil has moved nominally. Here's a breakdown of how and why Middle East developments exert diminished sway over world oil prices today.
Speakers:
Tom Petrie, Chairman, Petrie Partners
Dialing It Up: Wattenberg Operator Spotlight
This producer—holding an enviable inventory of sweet-spot acres—describes subsurface gains as well as overcoming surface hurdles.
Speaker:
David Gonzales, President & Chief Operating Officer, Bison Oil & Gas LLC

D-J Extension: Wyoming Codell
With the latest in frack technology, this operator is making wells in Laramie County, Wyo., in Codell that are tracking towards EURs of 850,000 to 1 MMbbl. Here's how.
Speaker:
Sean Fitzgerald, Vice President and Head of Reservoir Engineering, Boomtown Oil LLC/North Silo Resources LLC

At the Pad: A Well-Side Chat on Best D&C Practices
What's it take these days to make the best Rockies wells amidst the stacking, zipper fracks and zipper drills? These experts share their insight into what's working.
Speakers:
Paul Lembcke, Senior Completions Engineer, Ovintiv
David Stewart, Vice President, Environmental, Health, Safety & Regulatory, Crestone Peak Resources LLC
Partha Ganguly, Rockies and Northeast Operation, Manager, Baker Hughes Co.
Just need one of the conference presentations? Email custserv@hartenergy.com to purchase individual presentations for $50/each. 
---
Share this Product
---
<!-–

Liquid error (layout/theme line 395): Could not find asset snippets/spurit_uev-theme-snippet.liquid