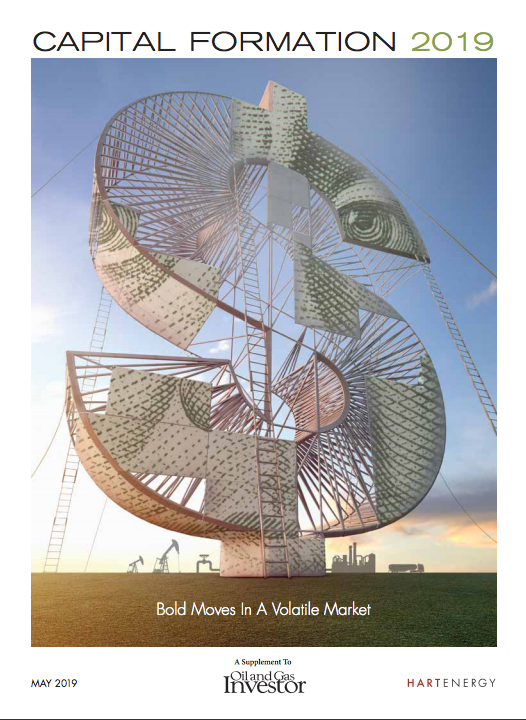 2019 Capital Formation: Bold Moves in a Volatile Market
---
In this annual special report, Oil and Gas Investor has capital providers talking about growth capital, structured finance, the challenges and opportunities they face, and more.
Table of Contents
005 | Capital Markets News
A roundup of recent news regarding the state of private capital, drilling activity, balance sheets and more.

011 | Private Equity Investments Stalling
The caution flag is out in what one provider calls a "super challenging" environment.

017 | Rescue Capital
With RBL lenders and public money fearing energy investments, a new force of private capital avengers is swooping in to rescue oil and gas operators.

023 | New Capital Voyages
If willing to leave the harbor, a variety of credit solutions for upstream and midstream players lies beyond the horizon. 
028 | Billion Dollar Babies: Midstream Rates Big Bucks
A welter of large private-equity deals are going on in both hydrocarbons and water.

035 | Meet Me in the Middle
These capital providers believe in investing equity or debt in the lower middle market.
039 | Capital Markets Shake-Out
The flight of capital out of public equities and debt reveals a rare polar shift in investor sentiment. But for how long?
041 | Top Deals Charts
Oil and Gas Investor presents a compendium of equity and debt deals over the trailing 12 months.
049 | Private Equity's Advantage
In a confused capital market, one midstream veteran credits private-equity backing with his firm's ongoing success.
053 | Directory of Capital Providers
An A-to-Z listing of energy capital financiers.
---
Share this Product
---
<!-–

Liquid error (layout/theme line 395): Could not find asset snippets/spurit_uev-theme-snippet.liquid