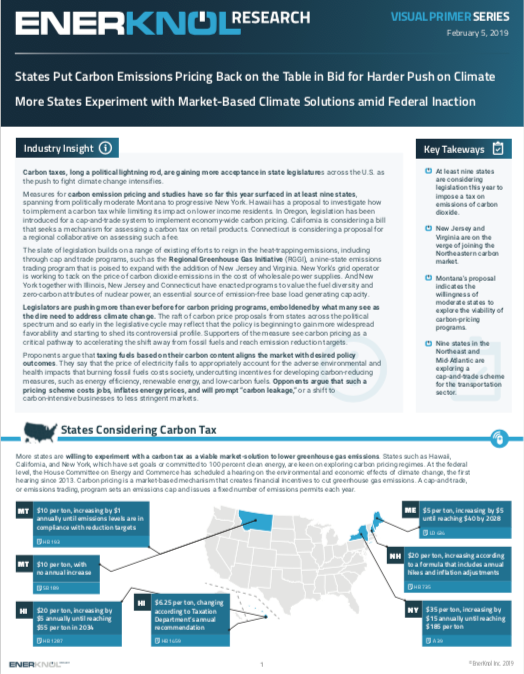 ---
States Put Carbon Emissions Pricing Back on the Table in Bid for Harder Push on Climate More States Experiment with Market-Based Climate Solutions amid Federal Inaction
Carbon taxes, long a political lightning rod, are gaining more acceptance in state legislatures across the U.S. as the push to fight climate change intensifies.
Measures for carbon emission pricing and studies have so far this year surfaced in at least nine states, spanning from politically moderate Montana to progressive New York. Hawaii has a proposal to investigate how to implement a carbon tax while limiting its impact on lower income residents. In Oregon, legislation has been introduced for a cap-and-trade system to implement economy-wide carbon pricing. California is considering a bill that seeks a mechanism for assessing a carbon tax on retail products. Connecticut is considering a proposal for a regional collaborative on assessing such a fee.
Discover in-depth insights by state in this PDF report. Updated February 2019, data provided by EnerKnol, the leading provider of regulatory intelligence for the energy industry.
---
Share this Product
---
<!-–

Liquid error (layout/theme line 395): Could not find asset snippets/spurit_uev-theme-snippet.liquid