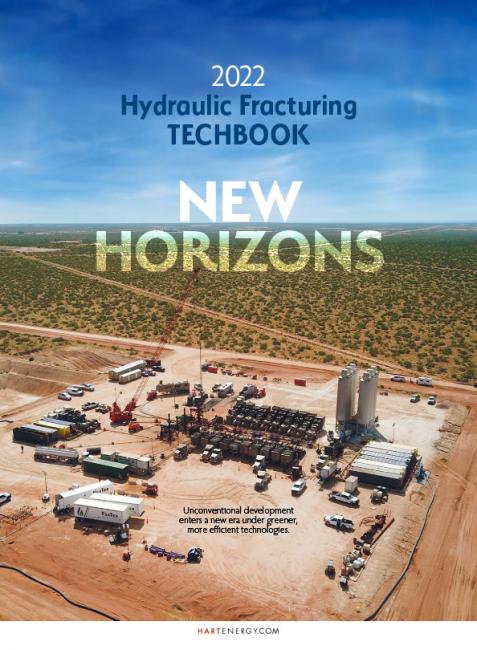 2022 Hydraulic Fracturing Techbook
---
New Horizons:
Unconventional development enters a new era under greener, more efficient technologies.
The Hydraulic Fracturing Techbook covers effective and emerging technologies in the oil and gas industry. Each techbook includes a market overview, a sample of key technology providers, case studies of field applications and exclusive analysis of industry trends relative to specific technologies.
Table of Contents
Automated Systems Can Save Operators Fracking Inefficiencies
Service providers Halliburton and Weatherford and data analytics company LYTT shared their automated technologies created to ensure efficiency in hydraulic fracturing operations.
Emerging Fracking Technologies Aim to Further Optimize US Production
Upstream companies working to boost oil and gas production responsibly and affordably are being aided by groundbreaking new products that are reimagining the future of supply.
Emissions-reducing Technologies Emerge as Wellsite Priority
U.S. shale producers and service providers focus on reducing their reliance on diesel fuel and identifying and mitigating greenhouse-gas leaks.
Frac Efficacy: Shedding Light into the Well
Intelligent fracturing integrates newly affordable tech that gives oil and gas operators sub-surface visibility and control.
Global Tensions, Market Disruptions Likely Maintain High Natural Gas Prices
Takeaway constraints for natural gas limit growth opportunities for U.S. shale producers. Here's a natural gas update featured in the upcoming Hydraulic Fracturing special report.
Horsepower, Sand Supply Limits Suggest Tight Frac Market
Additional horsepower capacity will come online later this year, but it may not be enough to bridge the gap to projected demand in the frac market.
How Far has US Hydraulic Fracturing Come? A Review of Recent Trends
The U.S. hydraulic fracturing sector continues to push the pace, paving the way for greener solutions for shale oil and gas producers.
Hydraulic Fracturing: Solving a Modern Problem with Modern Technology
AI-driven software for unconventional assets helps operators finetune completion strategies and democratizes access to accurate production forecasting.
Midstream Capacity Key to Surging Shale Production
Water in and out as well as hydrocarbon transport sustain new completion techniques for U.S. shale producers.
New Realities Change the Face of Frac Water Use
Reusing produced water for frac jobs can improve production and ease the need for freshwater supplies, while also reducing demand for disposal wells.
Shale Producers Continue Pursuit of Fracking Advances
Service companies are working to help shale operators get the most out of aging fields while cutting costs and emissions.
Technology Enhances Understanding of Frac-driven Interactions
Managing well spacing and frac-driven interactions improves efficiencies in unconventional plays. Here's what the experts of hydraulic fracturing technology say are the current trends.
---
Share this Product
---
<!-–

Liquid error (layout/theme line 395): Could not find asset snippets/spurit_uev-theme-snippet.liquid