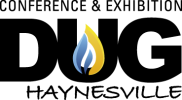 DUG Haynesville 2021 Speaker Presentations
---
This power pack includes all speaker presentations from DUG Haynesville 2021. Video includes speakers' presentation slides, if applicable. Video is available via streaming and direct download upon purchase. 
Opening Keynote: Doubling Down
With pay from the Haynesville and Mid-Bossier, Vine Energy has some 125,000 net surface acres, more than 90% HBP, the majority of which is prospective for dual-zone development. 
Eric Marsh
,
President & CEO
,
Vine Energy Inc.
David Elkin
,
Executive Vice President & Chief Operating Officer
,
Vine Energy Inc.
Louisiana NatGas Abroad: The LNG Market
Oh, the places Louisiana's natural gas goes. This winter, demand in Asia was so much that JKM approached $20 MMBtu. Here's a look at current markets and the outlook for demand.
David Braziel
,
President
,
RBN Energy LLC
NatGas in the Energy Transition: All Fired Up
Using electricity to fire steel furnaces? Using electricity to extract hydrogen to power hydrogen-fuel-cell vehicles? These and most other reduced-carbon, energy-transition tacks use natural gas to generate the electricity. Here's the outlook for demand from the Haynesville.
Emily McClain
,
Senior Analyst
,
Rystad Energy
Unboxing the Black Box: New Techniques for Understanding Drivers of Haynesville Performance
These analysts discuss their findings in how a range of variables--including well design, completion recipe and location--have affected the performance of individual operators and subregions of the Haynesville shale.
Reed Olmstead
,
Director, North American Onshore Research & Business Development
,
IHS Markit
The Frac: Executive Q&A
Listen in on "what's next" in a candid conversation with this 1990s co-founder of the East Texas Cotton Valley water frac that led to unlocking the Barnett's economics and, with horizontals, its and all subsequent shale plays' potential.  
Chris Wright
,
CEO
,
Liberty Oilfield Services
Operator Spotlight: Here to Grow, Not Exit
This operator aims to hold its reserves and keep growing its production, finding the Haynesville a long-term gas strategy. Learn more here.
Rob Turnham
,
President
,
Goodrich Petroleum Corp.
Operator Spotlight: Haynesville-East Texas
It's depth and thickness change, but the Haynesville is equally bountiful in East Texas. This operator describes its results.
Chris Simon
,
Vice President, Business Development
,
Rockcliff Energy LLC
Keynote: The Haynesville Mega-Pad
This operator is boosting MMcfs from multi-well, dual-formation pads. Here are its results.
Paul Sander
,
Chief Operating Officer
,
Aethon Energy
Operator Spotlight: All the NatGas
Consolidating the Haynesville section by section and also taking in Terryville Field, this E&P has built an enviable gas footprint that has direct access to major markets. Here are its latest results and plans.
Craig Jarchow
,
President & CEO
,
TG Natural Resources LLC
Operator Spotlight: Booking It
In the play since its beginning, here's this producers' playbook for developing its more than 175,000 net East Texas leasehold.
Doug Krenek
,
President & CEO
,
Sabine Oil & Gas Corp.
Spotlight: The Money & M&A
This expert describes what investors are putting their money in today, how Haynesville natgas competes and the price that property is getting in this and other Lower 48 plays.
Rusty Shepherd
,
Managing Director
,
RBC Richardson Barr
Spotlight: Wet Sand
Now an operator can pull sand from the wet pile from any regional mining source, lowering operator costs and improving the ESG footprint by eliminating silica dust exposure and reducing both carbon emissions and water needs.
Matt Oehler
,
Business Development Manager
,
PropX Inc.
First, You Make a Roux: The Frac Roundtable
The Haynesville keeps giving up more and more gas per well. These experts describe what's happening downhole that's making the difference, sharing their latest recipes. There aren't any tomatoes.
Matt Oehler
,
Business Development Manager
,
PropX Inc.
Zac Crouch
,
Vice President, Pressure Pumping
,
Baker Hughes Co.
Federal & State Policy: How's NatGas Looking?
This expert discusses policy changes that affect future supply and demand of natgas. For starters, the future is very bright as federal policy is expecting natgas to be the bridge fuel.
Jerry Simmons
,
President & CEO
,
Domestic Energy Producers Alliance
---
Share this Product
---
<!-–

Liquid error (layout/theme line 395): Could not find asset snippets/spurit_uev-theme-snippet.liquid