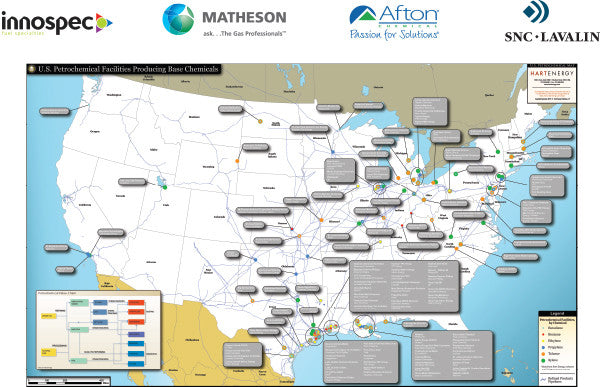 U.S. Petrochemical Facilities Map
---
U.S. Petrochemical Facilities Producing Base Chemicals Map
The Petrochemical Map provides the comprehensive visualization of major facilities across the United States by chemical: butadiene, benzene, ethylene, propylene, toluene and xylene. Refined products pipelines is also detailed across the U.S. Included on the map is the Petrochemical Value Chain diagram, which details the crude oil refining and natural gas processing process of chemicals.
24" x 36" Wall Map Features:
View the precise Refined Products Pipelines infrastructure across the U.S.:
Easily spot major Petrochemical Facilities by Chemical, as color-coded:
Utilize the handy Petrochemical Value Chain diagram to see how the chemicals fit into the overall process from refining to the output of olefins and aromatics.
---
Share this Product
---
<!-–

Liquid error (layout/theme line 395): Could not find asset snippets/spurit_uev-theme-snippet.liquid