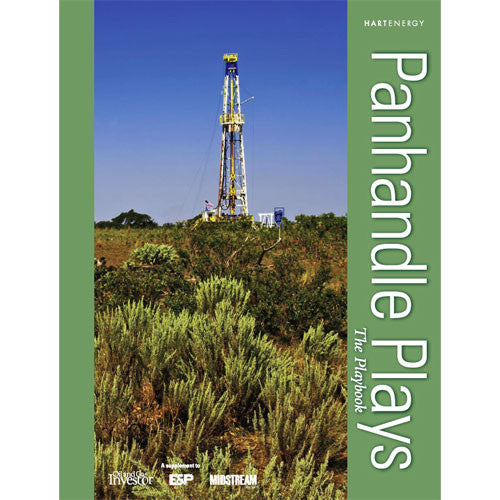 The Panhandle Plays Shale Playbook with Map
---
The Panhandle Playbook is the go-to resource for the red-hot unconventional plays in the Texas Panhandle. Numerous operators are targeting the Granite Wash, Cleveland, Tonkawa and Marmaton plays with horizontal wells and multi-stage frac jobs, and results are strong. The region offers a wealth of objectives, a friendly regulatory regime, established infrastructure and great access to services and supplies.
The Playbook will give you:
A comprehensive understanding of the complex geology of the Panhandle reservoirs.
Profiles and positions of the key operating companies active in the area.
A solid understanding of existing infrastructure and proposed additions.
Detailed references to deepen your knowledge of the plays.
Table of Contents:
OVERVIEW - The Panhandle Plays
With its complex geology, the challenging Texas Panhandle region
is receiving increased attention.
KEY PLAYERS - Liquids Draw Panhandle Drill Bits
More than 2,700 vertical and horizontal wells reached Granite Wash
zones alone since 2002, and production continues to grow as operators
apply the latest fracturing techniques to liquids-rich shallower formations.
TECHNOLOGY - New Applications to Optimize Production
Tools such as scanning electron microscopy and high-resolution
digital imaging are now being used to characterize shales.
MIDSTREAM - Awash with Activity
The Texas Panhandle area and bordering counties are bustling with
midstream infrastructure activity.
ECONOMICS - Plentiful Panhandle Plays
Multistacked pay zones mean lower production costs and less expensive
infrastructure outlays.
REFERENCES - Additional Information on the Panhandle Plays
For more details on the Panhandle Plays, consult these selected sources.
---
Share this Product
---
<!-–

Liquid error (layout/theme line 395): Could not find asset snippets/spurit_uev-theme-snippet.liquid