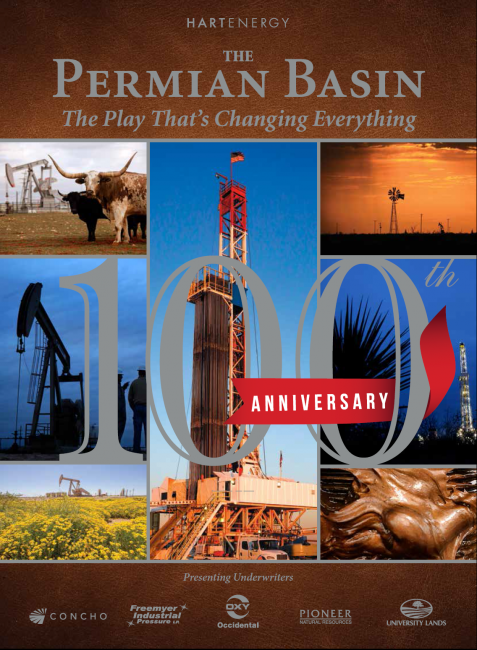 Permian Basin: 100th Anniversary
---
Permian Basin: The Play That's Changing Everything
Commemorate the 100th anniversary of The Permian Basin, the world's most remarkable oil basin with a special, coffee-table book by the editors of Oil and Gas Investor and E&P magazines.
This special commemorative book will showcase the basin's proud past, its current activity and its extraordinary significance to U. S. energy production and independence. It is sure to delight the most seasoned professional and intrigue young engineers, geologists, entrepreneurs and investors who are leading the industry in the 21st century.
Table of Contents
Chapter 1: 1920-1960
The Legacy of the Permian Begins

Chapter 2: 1960-2000
The Basin Endures

Chapter 3: 2000-2019
Reaching New Heights

Chapter 4: Current Activity
All Roads Lead to the Permian

Chapter 5: Serving Up Technology
Permian Tech at the Cutting Edge

Chapter 6: Capital Investment
Deals That Made the Permian

Chapter 7: Infrastructure Takeaway
Bigger, Faster: Midstream Ramps Up

Chapter 8: Permian Legends

Chapter 9: The Permian Gives Back
Permian Philanthropy

Chapter 10: The Future
Permian Staying Power
Hardcover shown below, paperback shown above.
---
Share this Product
---
<!-–

Liquid error (layout/theme line 395): Could not find asset snippets/spurit_uev-theme-snippet.liquid