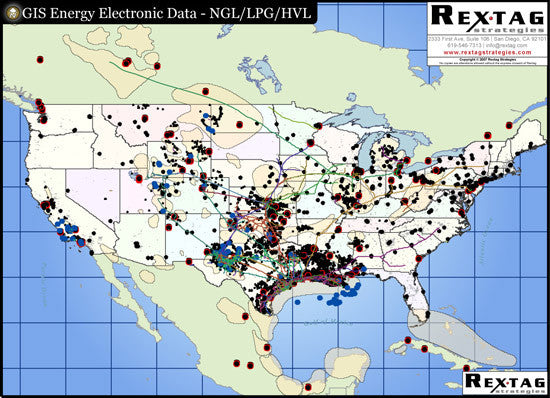 Liquid Products Pipeline GIS Map Data - North America
---
In the fast paced Energy Industry, you want to have reliable information at your fingertips. The Hart Energy GIS data sets are designed to do just that: provide you with the necessary data tools to make sound decisions.
Keeping our customers' satisfaction always takes priority, which is reflected on the high quality of our products. In addition, our different licensing programs allow our clients to customize their final data product while keeping our pricing well below that of our competitors.
Our data includes information on the pipeline systems located in the 48 states of the United States continental mainland.
The U.S. Liquid Products Pipeline System Digital GIS Data allows you to print your own maps, give you geographic images of different types of liquid product commodities, and helps you in evaluating the ever-changing market of the energy industry.
The Liquid Products Pipeline System Digital GIS Data contains the following Data Layers:
156 Unique Liquid Products Pipeline Systems (NGL, LPG, HVL)
More than 57,000 miles of pipelines
Names for Pipelines' Operators and Owners Pipeline System Common Naming (i.e. Valero/Nustar, Magellan, etc)
Crude Oil Refineries Refineries names and capacities (in BPD)
Natural Gas Processing Plants
Oil and Gas Basins
Each pipeline system classified by its commodity type. Thus, it makes it easier for our customers to show only the data of their interest. Our Liquid Producst Pipeline Data allows you to filter and label by:
All Liquid Products
NGL: Natural Gas Liquids
HVL: Highly Volatile Liquids
LPG: Liquid Petroleum Gas
any combination of the above
In addition, Hart Energy knows about budget constraints confronting small and medium size companies. Therefore, we have created a great licensing program. Our customers can get our GIS Data for the areas they are most interested, or buy the whole set with our system of price breaks:
Gulf Liquid Products Pipeline Digital GIS
East Liquid Products Pipeline Digital GIS
West Liquid Products Pipeline Digital GIS
---
Share this Product
---
More from this collection
Liquid error (layout/theme line 395): Could not find asset snippets/spurit_uev-theme-snippet.liquid