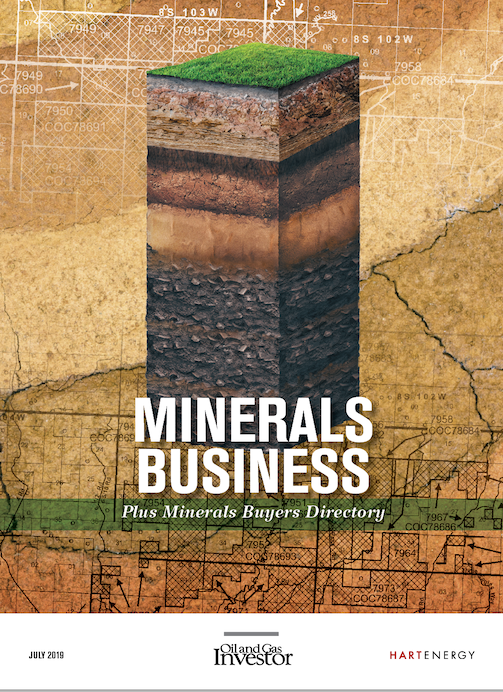 2019 Minerals Business and Buyers Directory
---
In the Minerals Business and Buyers Directory, we share insight from some of the most prominent leaders in the space today and create a directory of the major minerals buyers with cash in hand. Minerals-buying is clearly the new kid on the block, and the capital is flowing. 
Table of Contents
006 | SEEKING 25% YIELD
Competition for minerals is intense. But buyers are finding a way to get deals done at prices that work for their portfolios.

010 | MINERAL-ING UP
Private-equity firms are growing their positions in owning a share of the estimated $80 billion that is paid to minerals owners annually. 

016 | MINERAL MONEY
Publicly held mineral owners are booking oil and gas sales and writing distribution checks. 

024 | MINERALS: ENDGAME
Privately held minerals-buyers factor a multitude of portfolio needs to pick the right assets. 
032 | FCF OUT OF THE GATE
Bob Ravnaas shares his insights on how Kimbell Royalty Partners LP evaluates mineral assets.
039 | CAVEAT LESSOR
That mineral or royalty "lease" might not be a lease. Look before you sign. 

044 | DIRECTORY OF MINERAL BUYERS
---
Share this Product
---
<!-–

Liquid error (layout/theme line 395): Could not find asset snippets/spurit_uev-theme-snippet.liquid