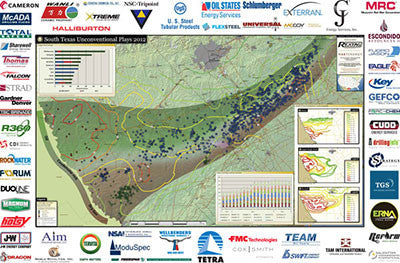 ---
The South Texas wall map illustrates the areas of drilling activity for the Eagle Ford, Olmos, Buda and Pearsall reservoirs, displayed on an isopach of the Lower Eagle Ford shale. The map also identifies areas of the Eagle Ford expected to yield dry gas, condensate and oil. Insets provide detail on:
Acreage holdings of the top 10 players, including an estimate of the resource split between oil, gas and condensate.
Gross isopachs of the Upper Eagle Ford, Olmos and Pearsall reservoirs.
Eagle Ford rig count by county
Map is laminated, size 24" x 36"
---
Share this Product
---
<!-–

Liquid error (layout/theme line 395): Could not find asset snippets/spurit_uev-theme-snippet.liquid