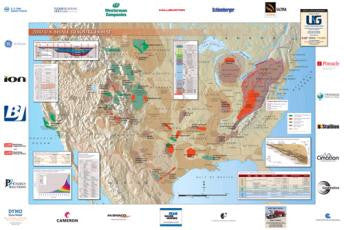 U.S. Shale Resources Wall Map
---
Hart Energy's U.S. Shale Resources Map
The U.S. Shale Resources Map displays established gas and oil producing areas from the nation's shales, and highlights areas of active plays in both oil-prone and gas-prone shale plays. The large-scale laminated wall map features insets that detail the stratigraphy of the major shale plays. Included are cross-sections through the Williston Basin's Bakken play and the Appalachian Basin's stacked shales, and more.
Laminiated Shale Wall Map 26 1/3 x 38 1/3
Order Your Laminated U.S. Shale Resources Map Today!
---
Share this Product
---
<!-–

Liquid error (layout/theme line 395): Could not find asset snippets/spurit_uev-theme-snippet.liquid