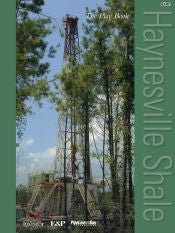 Haynesville Shale Playbook
---
East Texas and North Louisiana have served up another tantalizing reservoir in the superb Haynesville shale. The Jurassic Haynesville is a wonder, displaying every desirable characteristic of a prime shale reservoir. Well results are excellent, economics are compelling and excitement continues to grow!
The Haynesville Shale has been estimated to be the largest natural gas field in the 48 states with an estimated 250 trillion cubic feet of recoverable gas. This play has the attention of the entire industry, the investment community, E&P companies, service companies, and pipeline companies. The demand for additional information on the Haynesville is clearly evident on the search engines of our websites.
To meet the information needs of our readers and the industry, Hart Energy Publishing has published this 88-page exclusive special report on the Haynesville Shale Play now available as an interactive and instantly downloadable pdf.
The Haynesville Shale Playbook is exhaustive in coverage and provides readers with the most comprehensive intelligence published to date.
The Haynesville  Playbook address the play everyone is talking about and delivers answers to essential questions on reservoirs, active operators, economics, key technologies, and infrastructure issues.
Table of Contents
Haynesville 101
The Haynesville shale play has erupted as the hot new US gas target.
The Hearty Haynesville
East Texas and North Louisiana have served another tantalizing reservoir – the superb Haynesville shale.
Unraveling the Haynesville
The extraordinary Haynesville shale play has rejuvenated activity in one of the nation's vintage producing provinces.
Haynesville Squeeze-out
The prize for this deep Northwestern Louisiana shale is great. Resources for surfacing its natural gas reward are the greatest challenge now.
Haynesville Vies for Top Gas Shale
Operators tie down land positions and tune wells for high productions.
The Haynesville Heats Up
Activity is not the only thing heating up the Haynesville. Bottom-hole temperatures cause changes in the technology menu.
Haynesville Drives New Pipeline Development
Plans are under way for getting the new gas to market.
Haynesville Play Exceeds Expectations
While productivity is unmatched, liquidity crunch will slow shale's development.
This Playbook does not include a map, to purchase the Haynesville Shale Map.
---
Share this Product
---
<!-–

Liquid error (layout/theme line 395): Could not find asset snippets/spurit_uev-theme-snippet.liquid