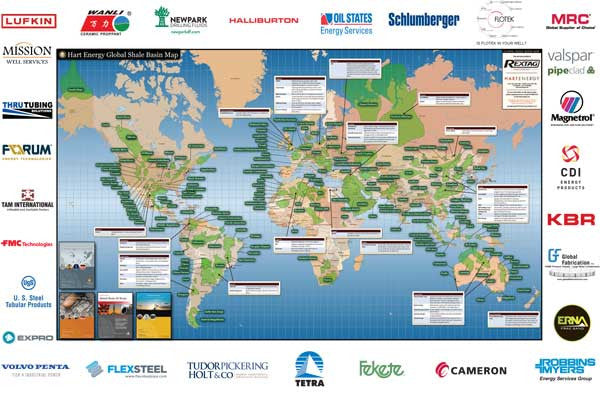 ---
Hart Energy's Global Shale Basin Map illustrates how the North American shale revolution is spreading around the world. More than 135 companies have leases to develop more than 175 shale basins outside of North America. Significant activity is taking place in China, Argentina, Poland, Australia, and the United Kingdom; all these countries should see commercially viable unconventional hydrocarbon production from their shale basins by 2015. Several other countries will have commercially viable plays developed by 2020.
Laminated Wall Map 24" x 36"
176 global shale basins hold resources of dry gas, liquids, and oil.

Asia – 44
North America – 31
Latin America – 30
Europe – 25
Australia/New Zealand – 16
Middle East – 7
Russia – 2

136 E&P companies outside North America are developing these acreage positions.
Above ground updates on key shale plays currently being developed.
---
Share this Product
---
<!-–

Liquid error (layout/theme line 395): Could not find asset snippets/spurit_uev-theme-snippet.liquid