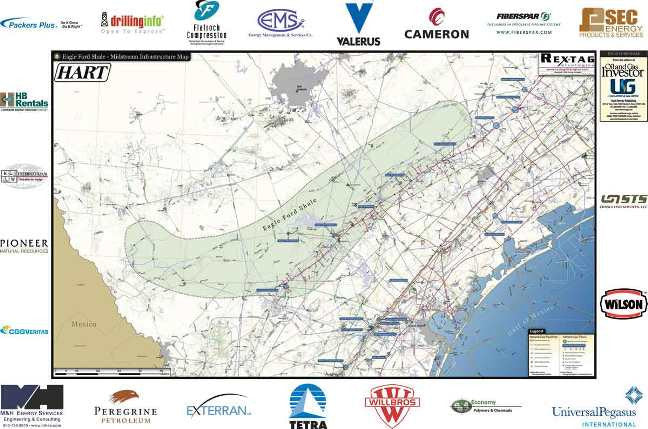 Eagle Ford Infrastructure Map
---
Laminated 24" X 36" Wall Map
South Texas is HOT, and it's not from the weather anymore. The Eagle Ford Shale is rapidly moving into the top tier of U.S. shale plays, propelled by excellent well results across its dry gas, rich gas and oil-prone areas. This South Texas play has it all: superior reservoir characteristics, fine economics, ready infrastructure and a friendly regulatory environment.
As crude oil and natural gas production ramps up in the Eagle Ford Shale, pipeline companies and midstream operators are increasingly looking to the South Texas play for opportunities to build new pipeline systems.
The Eagle Ford Shale, which stretches from the Mexican border along the Gulf Coast almost to Louisiana, covers more than 10 million acres in Texas, and is presenting pipeliners with plenty of new build-out opportunities.
With exploration and production increasing in the play, operators are looking to expand midstream infrastructure and services in South Texas and this is the must-have map to make strategic decisions in the midstream for this vibrant region.
---
Share this Product
---
<!-–

Liquid error (layout/theme line 395): Could not find asset snippets/spurit_uev-theme-snippet.liquid