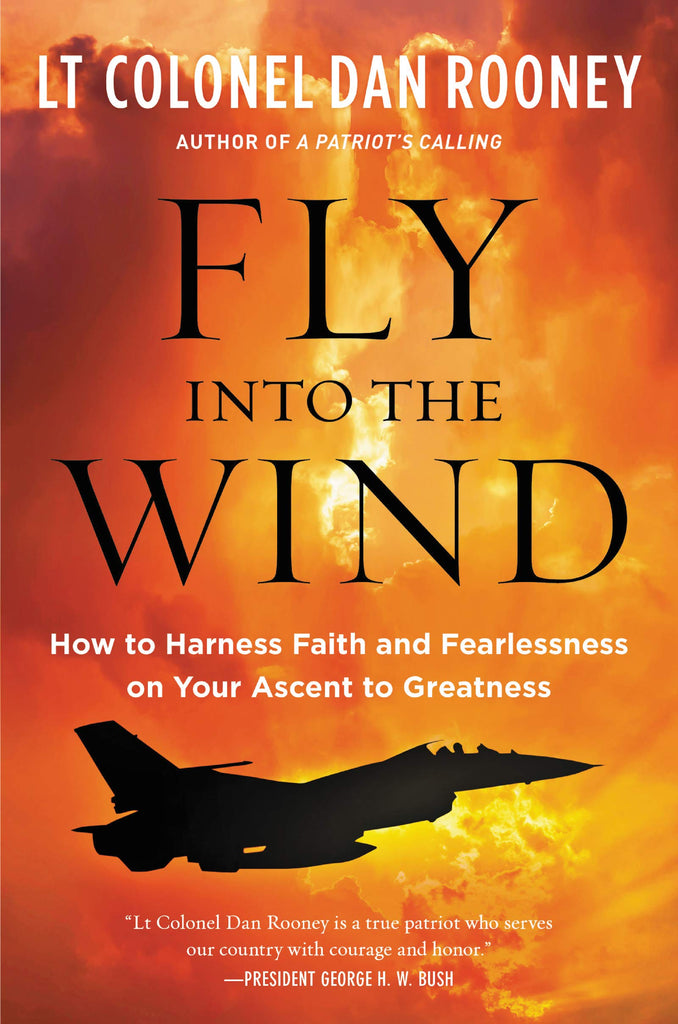 Fly Into The Wind by Dan Rooney
---
Autographed Hardcover Edition - USA TODAY BESTSELLER

"Lt Colonel Dan Rooney is a true patriot who serves our country with courage and honor."—George H.W. Bush, 41st President of the United States

F-16 fighter pilot, American hero, Folds of Honor founder, PGA professional, and inspirational family man Dan Rooney delivers a motivational code for living to help ordinary people ascend to their highest level in life.

Part spiritual guide and part call-to-action, Fly Into the Wind combines Lt Colonel Rooney's fighter pilot stories with his discovery of faith and purpose in order to help each reader achieve a philosophy he calls CAVU, after the Air Force acronym that stands for "ceiling and visibility unrestricted." CAVU describes the perfect conditions for flying a fighter jet, when steel-blue skies invite pilots to spread their wings like supersonic eagles. In today's world of identity politics, fractured racial relations, and external turmoil, Rooney's book will show how all of us are connected by God in more ways than we realize, and that the path to fulfillment begins with changing ourselves in order to better one another.

---
Share this Product
---
<!-–

Liquid error (layout/theme line 395): Could not find asset snippets/spurit_uev-theme-snippet.liquid