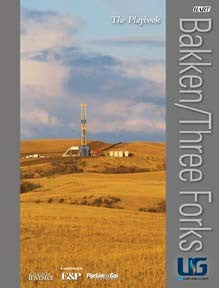 Bakken/Three Forks Playbook
---
The new and updated 104-page 2010 Bakken/Three Forks Playbook looks at the new plays and pays in this prolific unconventional oil system.
The Bakken/Three Forks play is rapidly expanding, both laterally and vertically. From exciting discoveries in the Alberta Bakken play in western Montana to strong wells in the underlying Three Forks formation in the heart of the North Dakota action, the Bakken petroleum system is delivering on its sterling potential.
This completely updated Bakken Playbook examines the key players, technologies, infrastructure, economics and more that are driving this prolific region.
TABLE OF CONTENTS
Chapter 1 - Focusing in the Bakken: The Bakken petroleum system in the Western Basin is a tight oil resource play.
Chapter 2 - Bakken Bolsters Bottom Line: A detailed listing of operators active on both the U.S. and Canadian sides of the Bakken.
Chapter 3 - Best Practices: A consortium of operators and service companies has collaborated to establish best practices for developing Bakken wells. Among these practices are critical completion and stimulation activities.
Chapter 4 - Bakken Bytes: Service providers active in the Bakken report their latest recommendations for dealing with the play's challenges.
Chapter 5 - Bakken Infrastructure Grows Up: Operators are working to ensure that transportation capacity is available for growing oil and gas production.
Chapter 6 - Bakken Keeps on Rockin': Operators look for ways to improve economics in a rising service-and-equipment-cost environment.
Chapter 7 - References: Find additional information on the Bakken/Three Forks in these selected sources.
---
Share this Product
---
<!-–

Liquid error (layout/theme line 395): Could not find asset snippets/spurit_uev-theme-snippet.liquid